What
is
it with indie rock? They get the best radio stations, the toniest blogs, South By Southwest, and adoring cherubic-faced fans from Generation Y. By contrast, Americana artists get rural NPR affiliates, obscure folk festivals, and bearded 30 year-olds in snap shirts with scoliosis. And don't get me started on the guys.
No matter. These days, with file sharing and low revenue digital sales becoming the norm, both genres are putting a brave face on career paths akin to Pickett's Charge. Until the smoke clears, all sides seem to be rallying around the banners of what they know: write songs, record, tour. Repeat.
It probably doesn't matter that indie rockers typically limit their flirtations with country music to the genre's Mount Rushmore-in-waiting. Hank, Cash, and Merle covers somehow don't sound as tired when delivered without the faux-twang and honky-tonk instrumentation. But covers aside, roots music and Americana arrangements seem to be finding their way into indie rock songs. Artists such as
Jenny Lewis
,
A.A. Bondy
,
M Ward
, and
Neko Case
have no trouble walking the line between both styles.
This month's "No Hank, No Cash No Merle" features the same humble host flanked by two NYC indie artists whose songwriting ventures well beyond casual dalliances with roots music, albeit to different degrees. Curly-haired chanteuse Alana Amram wouldn't shy away from the label "country rocker", while native-born Texan Hightower Smith would likely flinch at being tagged "Americana".
Maybe it's time to allow their music to speak for itself. Do we have time for one more poorly-constructed war metaphor? Bombs away!
ALANA AMRAM & THE ROUGH GEMS
Songwriters with "bass player" on their resume often develop a knack for placing hooks front and center. Maybe it's the straightforward nature of the job itself -- learn the chords, keep the beat -- that leaves bassists free to observe what works and what doesn't. Alana Amram has lent her bass chops to a number of projects, including NYC's straight-faced 80's-style rockers
the Fame
and, more recently,
Lights
.
Her latest solo project, Alana Amram & the Rough Gems, is largely a family affair, with mom, sister, and father (prominent jazz composer, David Amram) in tow. Rounded out by a cast of first rate local performers, the Rough Gems are a versatile vehicle for her most country-influenced effort to date. Amram's jangly acoustic guitar and reverb-kissed melodies recall the best elements of the Byrds-era California country rock.
But the good news doesn't stop there. Amram eschews worshiping at the altar of Gram & Emmylou in favor of tapping into subtler folk influences like Fred Neil and John Prine. In an age when the name "Gram Parsons" appears in 90% of all press kits, that's a breath of fresh air.
"Painted Lady"
For tour dates and info:
Myspace
HIGHTOWER SMITH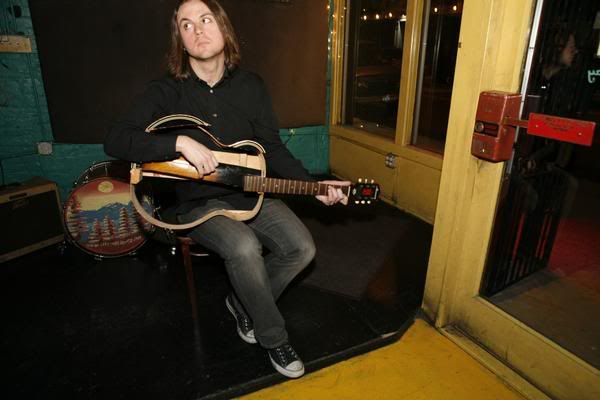 Let's begin by stating the obvious. Hightower Smith may be a native Texan but he is no country picker or oh-my-darlin' balladeer. You won't find him yelping Ray Price covers at urban BBQ joints or yodeling "Bonnie Barbara Allen" to approving folk nerds in turtle necks at the Old Town School of Folk Music in Chicago.
Not anymore, anyway. Smith did his share of country gigs and festivals with local honky-tonk outfit, the Doc Marshalls, years ago. He has long since left cowboy chords behind, releasing two solo albums, "Sisteen", and more recently,
"What It Did."
In between playing residencies throughout NYC and doing a few tours of duty on bass with the power pop band
Say Hi
, Smith has maintained a brisk writing pace, with an eye towards completing a third album.
Although standard country arrangements are mostly absent from Smith's work, he leads with his acoustic guitar -- not his voice -- reining in his more rock-oriented impulses with lush, droning chords and hypnotic melodies a la Elliot Smith and Jeff Buckley.
"Cousins"
FIVE QUESTIONS WITH HIGHTOWER SMITHYou're definitely not a country artist, but did growing up in Texas affect your songwriting in any way?
HS: I just wonder how I missed the good stuff. Johnny Cash was my grandfather's favorite, my mom danced in honky tonks all through her 20s, dad was a Texan most of his life, and still no country music cut with the MTV and rock mags that I was into. Bottom line: FM country in the 80s and 90s was not good around Dallas. I didn't catch onto the classics until long after leaving.
Are there any country, folk, or Americana songwriters whose work you admire?
HS: Of course, but it's the usuals (like...Hank, Merle, Cash).
Have genres like " Americana " and the unfortunately named "alt-country" painted themselves into a corner by latching onto clichéd themes like trains, booze, small town malaise etc? Is there anything country music writers can do to keep things fresh?
HS: Yeah, my ears go wood when I hear about trains, and states in the U.S., and whiskey, and yeah. Sometimes it's simple as talking about a different drug (
Cocaine Blues
is still my favorite Cash song). But Jeff Tweedy is the guy I think of first, far as someone who started off Americana and then skewed. Who can put a finger on it? The man reminded us that drug-taking sometimes comes with handshaking, and which kind of handshaking was he talking about again? More poetry, more inner life.
Indie rock artists like A.A. Bondy, Bon Iver, Neko Case, and M. Ward have released albums that slyly integrate roots instrumentation and Americana-flavored arrangements. Do you see these genres intersecting in any meaningful way? Am I an asshole for asking?
HS: I like Americana in the hands of rock musicians, because rock is more democratic with instruments and ideas. When there are more sounds and more metaphors rubbing against each other in a song, it gets weirder and richer.
These days, an indie artist is expected to record his own music, do his own promo, book shows and tour on his own dime, and give away mp3's for free. Then what?
HS: The White Stripes sold the triple-inchophone, Julian Casablancas has already priced the box-set edition of his new record, Nine Inch Nails has been selling them for several albums' worth. If you're not profitable from touring, improve the art direction of your merchandise.
The big goal remains the same, with or without graphic-designed key chains: show us with your art what you're into as an artist.
For tour dates and info:
Myspace
NICOLAS BEAUDOING (The Doc Marshalls)
Unapologetic bass angler and accordion-slinger Nick Beaudoing leads NYC's Cajun & honky-tonk troubadours, the Doc Marshalls. At the conclusion of their upcoming Southern tour in November, the band will retreat to the studio to begin work on album # 3 and prepare for their first European tour, in July, 2010.
"Kernow" (4-track demo, unreleased)
For tour dates and info:
Myspace